May 30, 2020 10:34 PM Central
Paula Baron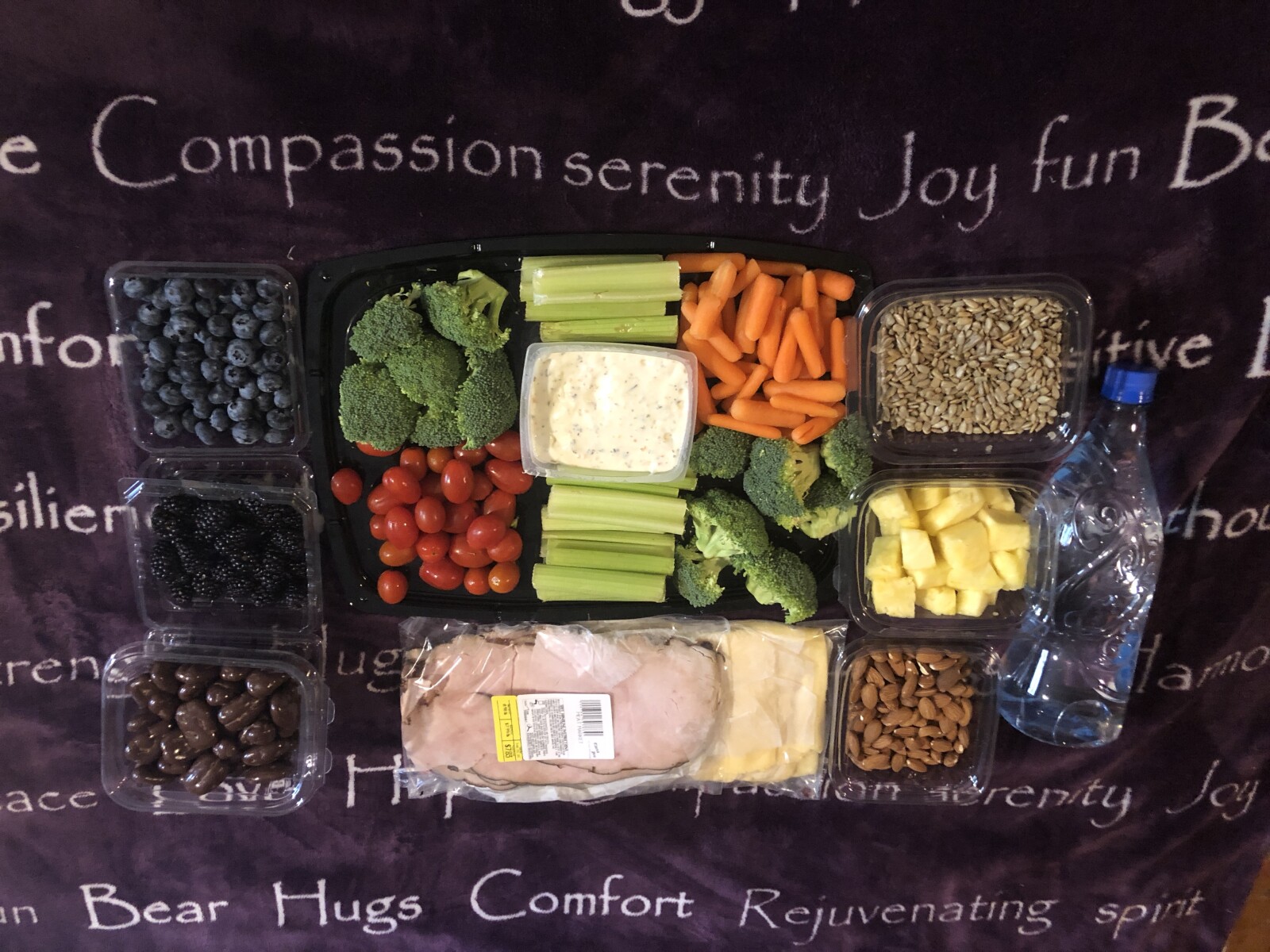 This is a feast I gathered up at a local market when were on a weekend vacation in February. Lots of nuts and seeds including chocolate covered pecans! (Not pictured here, soft white rolls to make turkey and cheeses sandwiches, using guacamole instead of mayonnaise for a spread). Now for a little back story on how my family began eating gluten free as a lifestyle.
Many years ago, my family was getting sicker by the day and we didn't know why! Finally, one month after my older son's 6th birthday, we found out why. Mold. The worst kind.
Stachybotrys chartarum
and other species that I also cannot spell without looking up,gave us what our air inspector called "a witches brew" inside our kitchen. We had the air tested where we found the source, all the way back in the nursery for my then 2 year old, and in the master bedroom. Sure enough spores had circulated throughout the house.
At one point in this ordeal of sickness, my children's Dad said he would take them to the pediatrician to have them checked out. I told him to go ahead, but after all my years of health problems, I had done enough research to suspect ;-) that a typical pedi exam was probably not going to cut it. I was glad he was trying to help, but sure enough, the doctor said they were both fine. Mold illness requires a look much deeper than a general office exam, so sure enough we ended up at an environmental doctor who did a much deeper exam.
I tend to go on rabbit trails and I just thought I would share with you what brought us to a real wake up call to learn about foods and what ones we needed to avoid to repair our immune systems that had been saturated with poisons basically for four years. When we called to make an appointment with an environmental doctor the secretary, before we even booked an appointment, actually told us we should get on the gluten free diet right away, and also avoid dairy, peanut products, and sugar. Never had an office person do that before!
My children and I stayed fairly strict on this diet for about seven months, along with taking internal essential oils, herbs and activated charcoal that the doctor recommended and we began feeling better. So what did we do? Test the waters with other foods of course! LOL. We looked o.k. on the outside but I could see a difference start creeping in with my boys in subtle ways and then in not so subtle ways. This diet has
had
to become a lifestyle for us. If it is not followed I see signs of it in myself and my sons.
Again, I will leave more details of that subject for another post. On to some pictures of simple dinners you can make that are gluten free and delicious! I cook pretty simple much of the time for various reasons, but please know there are more traditional things like casseroles that can also be converted into gluten free dishes.
Pictured here are two hamburger patties with melted goat cheese smothered on top on a bed of red lettuce leaves and sliced tomatoes of course! When I eliminate dairy, I do allow for goat cheese or small amounts of hard cheeses for my family, like sharp cheddar. I will admit, I find dairy the hardest to completely eliminate!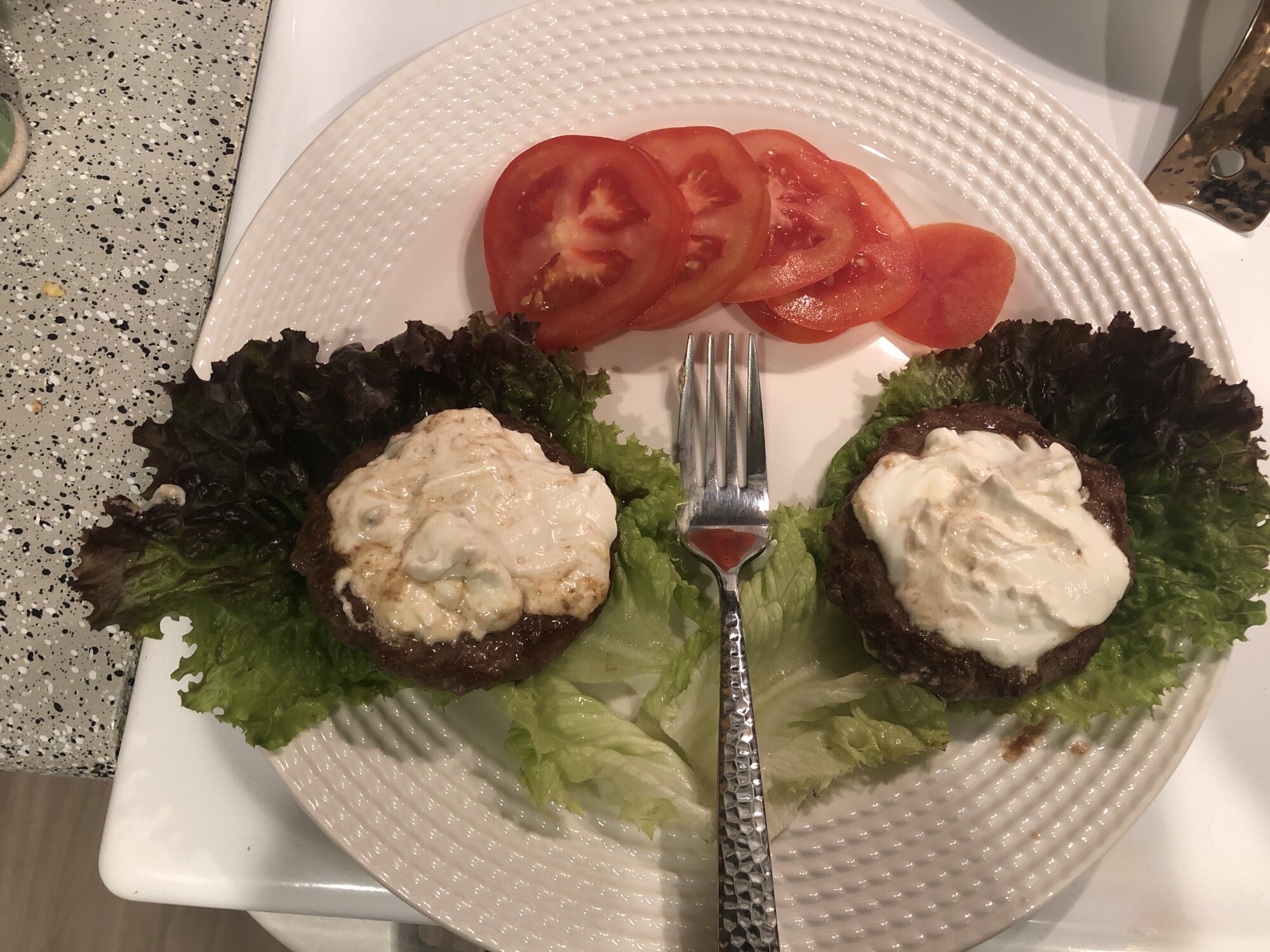 Thankfully, I had been eating this way, for the most part anyhow for over 20 years due to chronic health issues myself, so it wasn't hard to do it when I was told my children needed to eat that way!
Now it is easier than ever to keep gluten free. Sticking to whole foods will get you there, and restaurants often offer gluten free menus and there are snacks and baking mixes galore for when you want to have a special treat and not feel like you are having to miss out on taste. Believe me, things have come a LONG way in 20 years since I began changing the way I ate so I could feel better! And the bonus was I lost thirty pounds within the first couple months by eliminating these foods.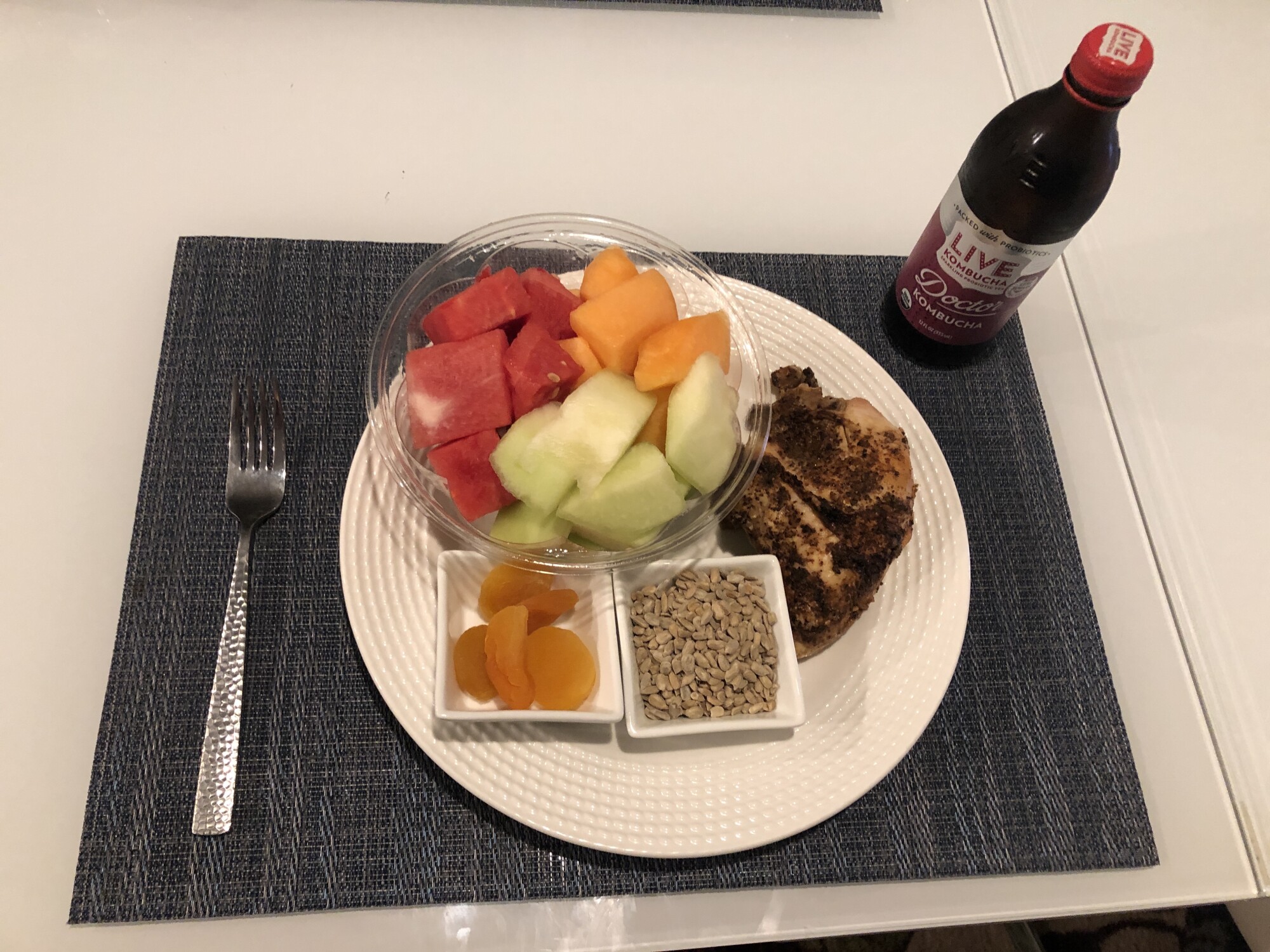 I love to photograph colorful food, much to the chagrin of my children. I often have to make them wait to start eating while I snap a couple photos ;-) . The other night we had this dinner; mixed fruit salad, grilled chicken, sunflower seeds and dried apricots. O.k., so maybe my boys didn't care for the apricots. ;-( . I found a great alternative to soda that is a live kombucha sparkling probiotic tea. They have several flavors that try to mimic regular soft drinks, we like the root beer one the best! One son likes this drink and my other likes a regular ginger flavored Master Brew Kombucha that also has live probiotics in it. Anyhow! Read on...
If you really need to be 100% gluten free rather than gluten friendly as some people call it, then watch your spices as they can contain hidden gluten. Sauces, salad dressings, soy sauce, etc. I bought this chicken at a local grocery store so in order to be 100% GF you would need to ask if there was any gluten in the spices used to coat the chicken.
Below I have pictured an early dinner that we ate last week! We will often throw in a gluten free pizza later on to top off my boys to get them the extra calories they crave! Below I have a

salad with pecans, craisins, mixed greens, and sunflower seeds drenched in a creamy balsalmic salad dressing, getting us the good fats from both the nuts and seeds and also the salad dressing. There are excellent minerals in red leaf lettuce and sunflower seeds especially. The plate has several slices of smoked gouda, black peppered turkey breast (I prefer Boar's Head brand), strawberries, more craisins ;-), and gluten free pretzels. Dessert is in the right upper corner, it is a delicious brownie make with flax flour! I also offer a side of nutella for dipping the pretzels in but we have discovered it is actually good for dipping just about anything, except ketchup my son told me the other night. Again getting in more calories for my growing boys! Disclaimer: Nutella does contain sugar and the cheese has a bit of dairy ;-).... I tell people to ease into this and don't try to take away absolutely everything unless you have to.

Another simple Gluten and dairy free dinner.
Chicken nuggets, pumpkin seeds,
blackberries and applesauce.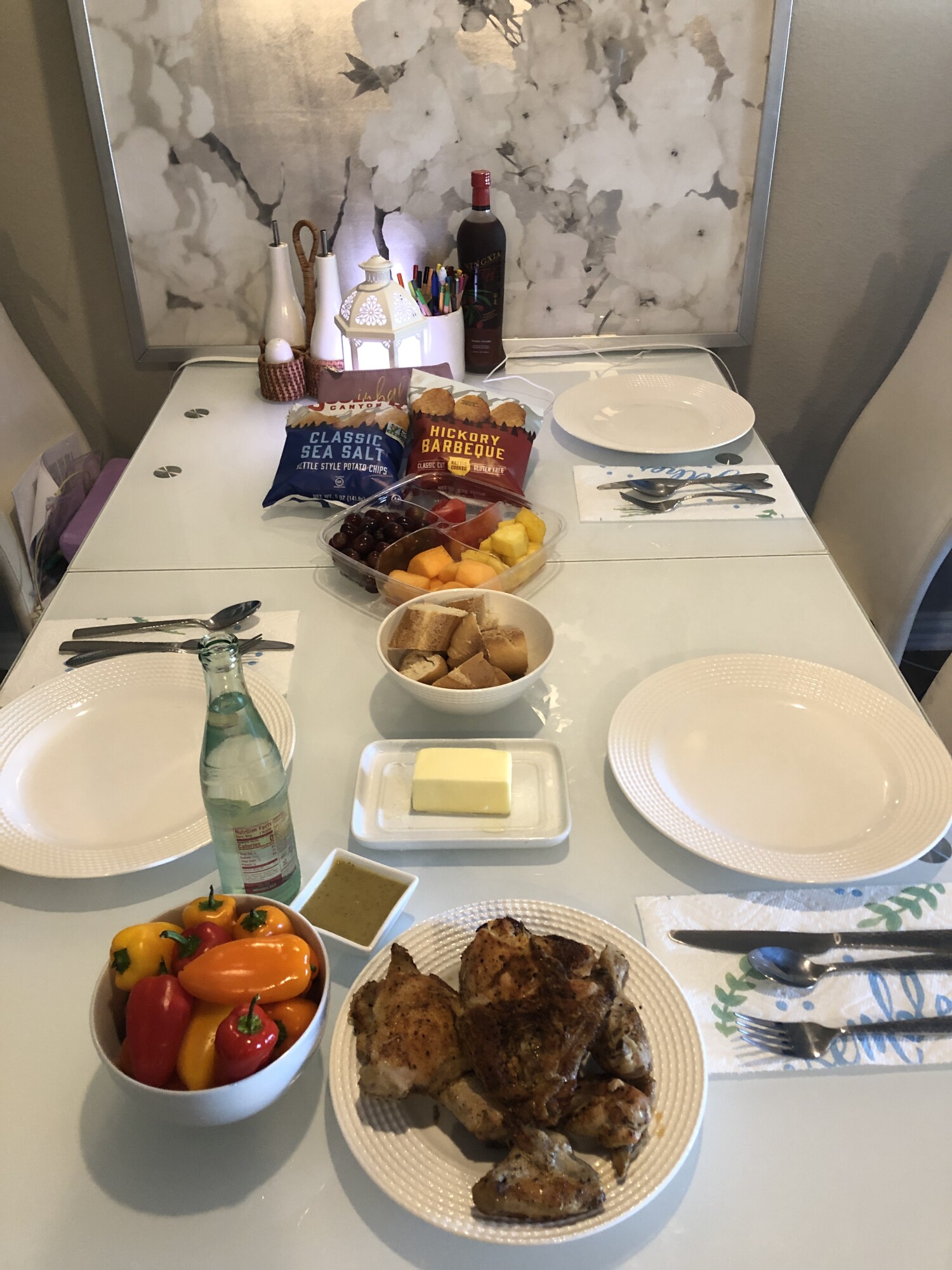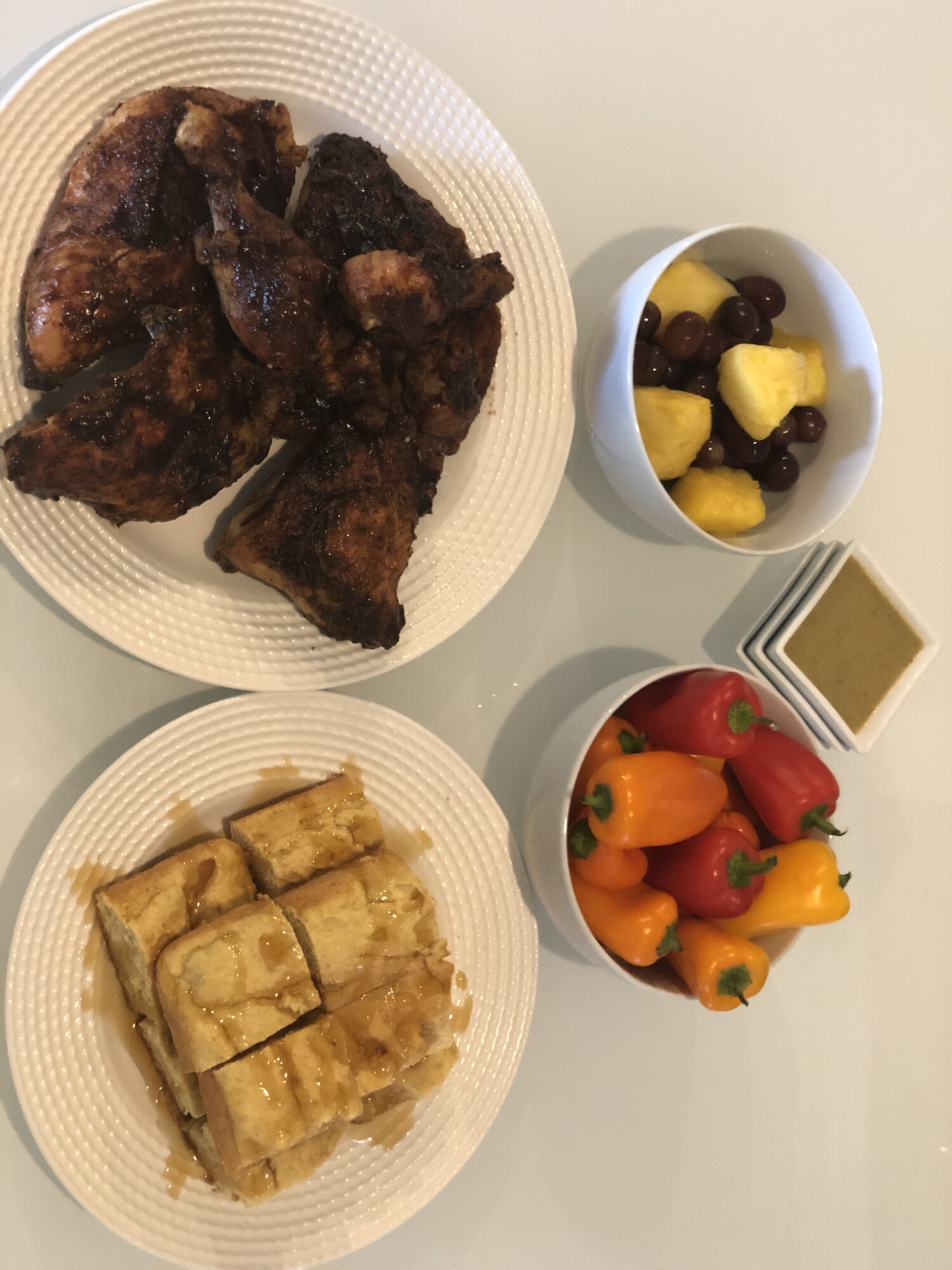 Super Easy BBQ grilled chicken, GF cornbread from a mix,
fresh fruit and bell peppers with a tzatziki sauce for dipping!
On the subject of sandwiches, my older son finds that he likes it better if he toasts the bread before making his sandwich to take to school, even though it is not warm by the time he eats it for lunch. I am still working to get all my food pictures up, stay tuned for steak and veggie dinner pics, grilled salmon with rice and green beans, and loaded bake potatoes are a few of the favorite dinners I like to make! Hopefully you can see, eating gluten free is not so daunting!
I highly recommend removing these five foods from your diet no matter who you are! Getting inflammation down throughout the body is good for everyBODY! Thanks for reading!